Flashback of memories.
Those who i talk to alot in the past, went away. Silence and silence. Isn't that saddening? Talk whatever rubbish to me, it's okay. Talk whatever bgr thing to me, it's still okay. Just let me avert my attention at this moment.
Or, someone just make me cry my lungs out and to lend me that shoulder.
Why cant it flow?
-------------
Thanks alot though it didn help much. :]
-------------
On thurday, went back Dunearn with stel. The rest of fruits didn go back, yang didn too and so was wan.
The place feel empty or am i the one feeling empty?
I think what i wanna visit wasnt the teachers but where the memories held.
Of friends and of first love.
Jordus, Stel and Jess.
Stel and Jess.
Jordus, Stel and Jess.
Jess and Stel.
Take one.
Take two
Take three.
We're travelling to the year 1962 - 1969.
And this is my way of bidding goodbye to memories.
---
After, we went to plaza singapura. We went to meet xue and wen.
Jasmin, Jordus, Stel and Xue.
Wen, Jess and Xue.
Jess, Wen and Xue.
Aint my spectacles useful? Ha. It's only suitable for taking pictures.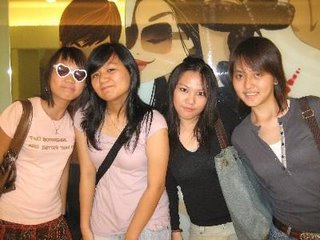 I know i look terrible.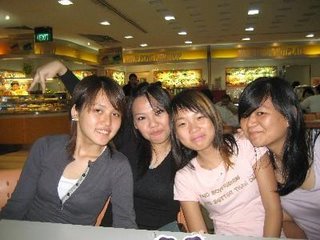 Fruits minus one.
-------------
I went back to NYP around evening time to catch the concert of Fan Yi Chen&Tong En. They sang really well.
Melts.
Bu Tong Fan Xiang.
They're singing together.
He was singing "I Believe" and went around shaking hands.
Again.
Tong En and Trix.
Autograph session.
Fan Yi Chen and Jess. We both look a little awkward. HA.
Take one.
Take two.
Take three.
The three of us are protesting!
-------------
Define empty and lonely.
If lonely and emptiness conquer your heart, please dont take love as your medicine. 'Cos that medicine will smash the other heart, and
that
kind of medicine continues. In time to come, it'll become a destructive virus which is deadly.
But humans always do?

I want to see that rainbow
after the rain
'cos you block it
it's even harder
'cos i block it
it's choking.